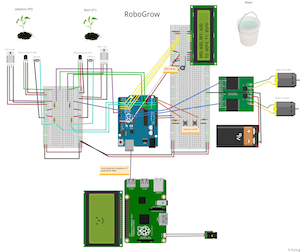 RoboGrow
:
Arduino + Raspberry Pi remote gardening automation
Sensor data collection and graphing
Triggered execution of watering & light
Hot off the easel: the latest art buzz & events in the Bay Area. Go get your art on.
Self-updating tweets, events, and news from the Bay Area
Rails-MySQL back-end, Twitter + Eventbrite front-end integrations
Crowdsourcing for concerts.
Fans – Bring your favorite artists & bands to venues in your hometown. Commit a fair ticket price and leave the rest to CrowdPush.
Artists – Learn more about your biggest fans and track your demand across the country. Connect with venues & promoters in one place to book that awesome gig.
Promoters & Venues – Broadcast concerts to known local fans of an artist or band. Gauge funding & commitments before the concert is even booked.
Share that special groove and stream some love.
User-generated stream of make-out music
Sortable playlist creation based on likes, adds, and recency
iTunes affiliate linking
Collaborate with your Facebook friends in creating the ultimate playlist of YouTube videos.
Create and manage YouTube playlists
View and comment on Facebook friends' playlists
Build a mega-playlist with your friends
Master that shredding guitar solo and manage your personal portfolio of tabs & sheet music.
Browse over 700,000 pieces of sheet music indexed
Learn from the artist or an instructor video
Reference chords and scale theory
Build and manage a personal music portfolio
Discover local pizza when you need it most.
Are you on a mission to find the best pizza in town? Or maybe you're on the road and craving slices? Don't settle for cheap Chinese takeout or fast food. 'The Slice is Right' has your back and is the perfect tool for all pizza lovers.  
Portfolio & Other Work

Make a collection of your favorite Artists and get their music, videos, photos, news and concerts in one place.
Academic Samples